In the past I have repeatedly complained about claims of copyright protection where no such protection exists.
I have talked about this problem on Google Books, where books are not given full view when they are fully in the public domain or where public domain books republished by Kessinger Publishing are used which wrongly claim copyright protection. A recent critique of Google Books by a blogger at the AHA has mentioned a similar problem in a posting here.
I have also expressed my frustration with the new Footnote.com service which gives access to completely public domain documents through a paid service and then forbids the viewers to copy and freely use this completely unprotected and public domain content through their restrictive licensing agreement. This is part of the trend towards using licenses to restrict the usage of materials which cannot otherwise be defended by copyright.
Isn't it enough that we have to face an unjustifiably long lasting copyright protection laws, and various other blocks to the increasing potential for cultural innovation and information sharing provided by the internet?
Well, this problem isn't limited to the online world. I have been looking at a lot of microfilms lately of US government documents, mostly from the US State Department. These are documents I can usually see the originals of by visiting the National Archives. Almost all of these documents, that is, any documents produced by the US Government, are completely in the public domain and no publisher or individual can "legally assert copyright unless the publisher or individual has added original, copyright protected material."
So explain to me why it is that University Publications of America, which created the microfilms of these US government archival records, can get away with proclaiming their copyright on the microfilm reel (Click picture to view larger version):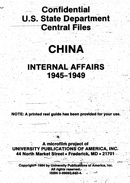 Even if they could claim copyright on messages they put at the beginning of the microfilm, which is hardly what I think the law has in mind when it says "original material," then they copyright does not extend to the materials held within. I don't think that reproductions of these public domain documents in this photographic form, is in anyway original. Furthermore, when there are copyrighted materials (there are scanned published books in the possession of the state department, for example), UPA can hardly claim copyright over such materials, even if I'm grateful that they include such scans in the microfilm, possibly in violation of the copyrights on those materials.
Look at this warning they put in: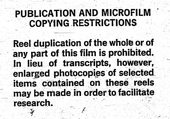 Even if we let them have their copyright on this page of the reel, I don't understand how UPA has any right to graciously "grant" me permission to make enlarged photocopies of only selected items, or deny me the right to make a reel duplication of almost the entire reel, except their introductory frames. Where do they get this right over the material? If these are public domain materials, I should be able to duplicate and use these materials in any way I see fit, whether it is selected photocopies, or print outs, or by copying every single unprotected page within the reel. I should have this right whether I'm engaged in research, or even if I wished to publish a book (without asserting copyright) with the entire public domain contents shown.
These kind of false claims help contribute to the "permission culture" that we find ourselves in, where we become increasingly paranoid about exchanging ideas and creating new culture that uses the rich variety of materials that we have access to.