I mentioned in an earlier posting written while visiting Taiwan in 2005 that, in addition to media products such as Korean movies and dramas, there is another "Korean wave" out there.
As I mentioned in that posting, "Korean-style plastic surgery" (韓風整形) can be found advertised on the streets of Taipei. In this advertising we see a "before" and "after" shot indicating how a customer might be transformed into Bae Yong-jun: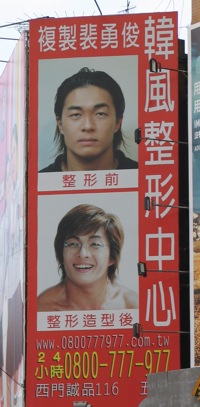 On my recent trip to Shandong, I discovered that this was not limited to Taiwan but can also been seen in mainland China. In fact, the main shopping street of Jinan (which includes a Walmart and various famous brand clothing stores) was lined on both sides for several hundred meters with an illuminated advertisement for "Korean-style plastic surgery" (韓氏整形). This time, instead of Bae Yong-jun, they chose the image of a woman in a hanbok to give it an authentic look.